Welcome to Nissei-Chuo Catholic Church
The Nissei-chuo Catholic Church is a parish in the Osaka Archdiocese of the Roman Catholic Church. It is located in Inagawa Town, Hyogo Prefecture. There are about 400 parishioners, who come from the surrounding areas of Kawanishi City, Inagawa Town, Toyono Town and Nose Town.
The mass is celebrated in Japanese, however we do have the printed weekly missalettes in English to help you follow along. Children are always welcome, and there is a cry room for use as well. If you would like to speak to someone in English, we can arrange that for you, as a few of our parishioners do speak English.
Please feel free to drop by.
Information about the Mass
Sunday Mass : from 10 am on every Sunday
Weekday Mass : from 10 am on Tuesday (nonregular)
First Friday Mass : from 10 am on first Friday of every month
Ministry Biography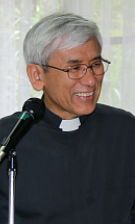 Parish Priest : Fr. Katsunori NAKAMURA
 From Hokkaido
 2005 Ordained to Priesthood
 2005 Curate of Toyoshiki Catholic Church in Tokyo Archdiocese
 2009 Passionist Community Tokyo Monastery
 2012 Passionist Community Retreat House in Fukuoka
 2016 Joint Priest Team of Ikeda and Nisseichuo Catholic Churches
 2018 Parish Priest of Nisseichuo Catholic Church

Contact Information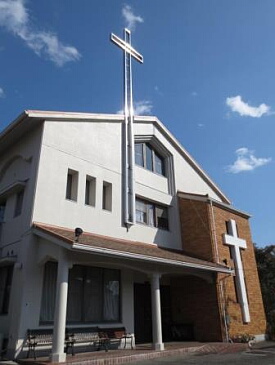 ADDRESS
: 597-4, Aza Yakeyama, Hara, Inagawa-cho, Kawabe-gun, Hyogo, 666-0242 Japan
TEL
: 072-766-1519
FAX
: 072-766-4055

The church is open from 10 am to 4 pm on weekdays and 9 am to 1 pm on Sundays.
Our parishioners who speak Engilish will help you on Sundays if you need assistance.

Map
The church is located about 10 to 15 minutes on foot from the Nissei-chuo station of the Nose Railway.
There are parking spaces available in the church.
Taxies near the station are also available. Just say, "To the Nissei-chuo Catholic Church near the Uguisuike park, please."